Regular price
$279.00 USD
Regular price
Sale price
$279.00 USD
Unit price
per
Sale
Sold out
Buy more Save more
| Qty | Discount |
| --- | --- |
| Buy 2 | 9% off each |
| Buy 3+ | 12% off each |
| Buy 5+ | 15% off each |
View full details
How does Laser Therapy Watch Work?
Domer Laser Therapy Watch Adopted 18 diodes of 650nm low level laser irradiate the radial artery, neiguan and nasal cavity acupuncture point on the left hand showed positive effect in reduction blood pressure, rhinitis treatment.
Change Property of Blood Hemorheology
When cold laser watch irradiates defined acupuncture points on the wrist (radial artery, neiguan point and nasal cavity acupoint), the energy light can be absorbed by cells, to stimulates protein synthesis, help to clean blood vessel waste.
Increase Body's Immune System
Adopt the Laser therapy watch to irradiate the acupoint can improve disease resistance of organism and help the recovery of infectious disease and disease about allergia and autoimmunity.
Improve intoxication state of organism
Enhance activity of superoxide dismutase (SOD, a kind of enzyme for scavenging free radical) in the organism, lower the medium molecular substance (MMS) and reduce other stack, so that the organism is protected from the damage of free radical, MMS and other toxicants.
The Application of Laser Therapy Watch
Domer 20 beams 650nm Laser therapy watch combines acupuncture point, external blood irradiation (radial artery acupoint & nasal cavity) for your health living, especially help people purify the blood, lower blood pressure, fight diabetes.
More FAQs
Specification of Laser Therapy Watch
The Domer Laser Therapy Watch for blood pressure uses class 3B 650nm low-level laser light, with intelligent operation interface, just need to set the power, treatment time, and treatment mode, super easy to use.
Laser Type: GaAlAs Class 3B Laser
Laser Wavelength: 650nm low level laser
Terminal Laser Output: 18 laser diode with 650nm and 2 nasal cavity laser
Terminal Maximum Power: 100mW
Timing Setting: 10-60 minutes, 4 grade adjusting
Power Setting: 3grade adjustable
Power Source: 100-240VAC 50-60Hz
Built-in Lithium Battery: 1900 mAh
Compliant to: ISO 13485 Medical Device Quality, IEC 60825-1 Laser Safety, IEC 60601-1-2 EMC, CB Mark, CE Mark, CMDCAS
How to Use Laser Therapy Watch?
Wear the Laser therapy watch on the left hand irradiate the radial artery, neiguan and nasal cavity acupoint, set the time 30 mins, medium grade power and pulse mode, use the laser therapy watch twice per day, continuously treatment 15 days, stop using 3 consecutive days, and then start the laser treatment continuously with full power, until the blood pressure drop to normal level.
What is the Therapeutic Effectiveness of Laser Therapy Watch?
After 30 mins treatment

We can see the blood red cells activated, it single and back to normal.
After about 30 days treatment
A headache, dizziness, chest tightness, shortness of breath, palpitations, drowsiness, insomnia, numbness, memory loss and other symptoms change or disappear.
After about 3 months treatment
User tests changes in blood flow, blood tests, blood viscosity, cholesterol, triglyceride, low density lipoprotein, or other indications fall back to normal.
What is the Contraindication of Laser Therapy Watch?
The laser watch is not suitable for cancer patients, pregnant women or people with haemorrhagic diseases
What is the Side Effect of Cold Laser Therapy Watch?
Laser Watch is painless, non-invasive, no trauma, green and safe physiotherapy.
Best Laser Therapy Watch
Double power than other laser watch, which only 7 or 10 beams 650nm laser
With 18 laser diode 650nm low level laser and 2 nasal cavity 650nm laser
Super Effective, the effective rate is up to 95%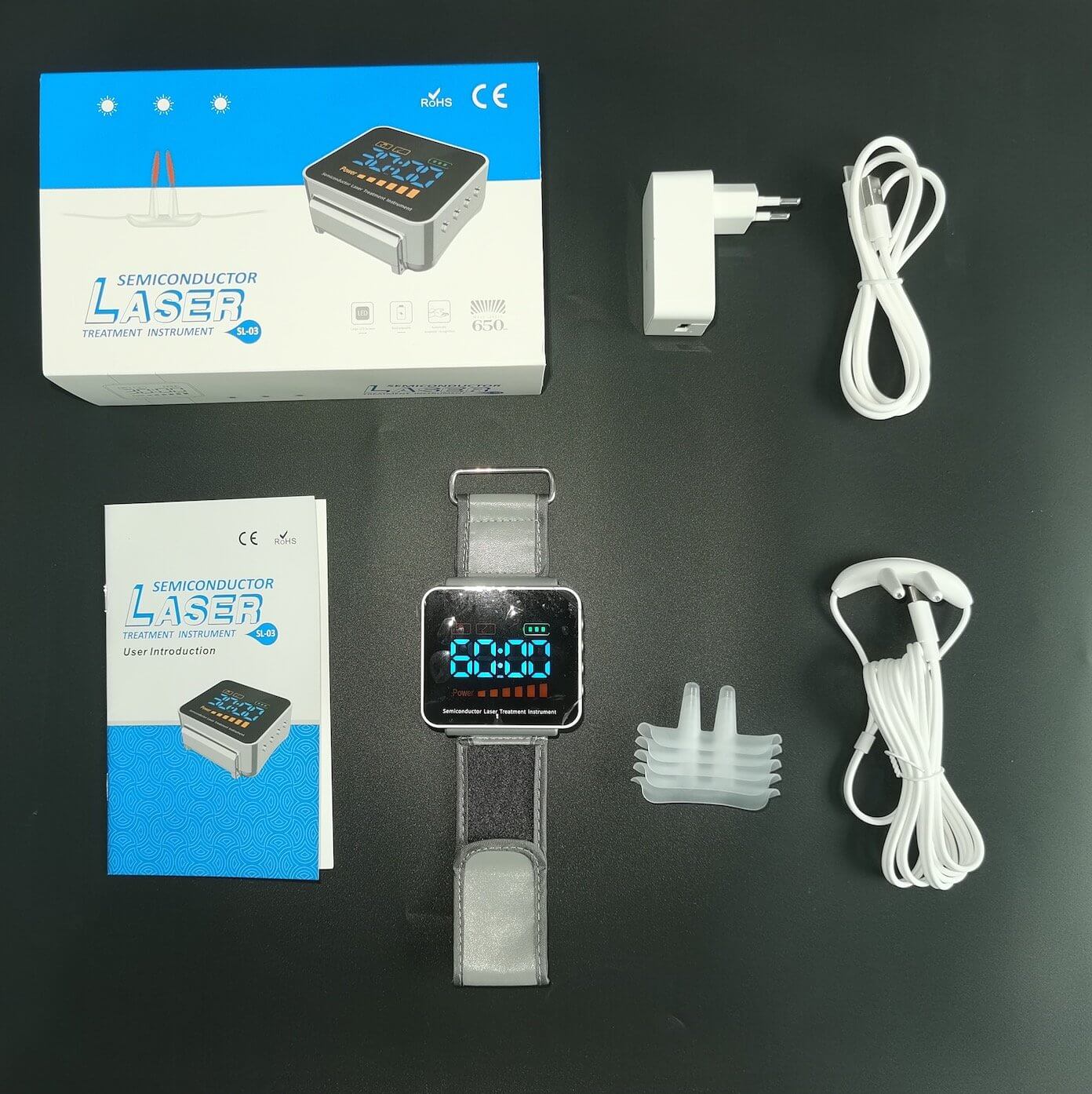 Domer Laser Therapy Watch Included
Professional Laser therapy watch
External Laser lead
Lithium battery capacity of 1900mAh
Nasal Caps
User Manual in English
working with patience
after 3 months I noticed working for tinitus
working with patience
after 3 months I noticed working for tinitus