Laser Therapy for pet is drug-free alternative. LLL/ cold laser therapy is no invasive, no side effect laser treatment for dogs, horse, or pets. When the companion is treated by cold laser, they behave comfortable and relaxing, it is obvious they like the laser treatment and it makes the difference. 

What are low-level laser?
LLLT can deep-penetrating the skin of the pets to promote a chain of chemical reactions known as photobiomodulation. This process helps to improve the microcirculation & metabolism, accelerate the tissues repair, relieve the pain and anti-inflammation, to improve the quality of pet's life.
The Specification of Laser Therapy device 
Laser medium: GaAlAs 3B 

Laser wavelength: 3 diode 808nm + 12 diode 650nm low level laser 

Timing range: 10~30mins adjustable




Power: 170mW ~ 510mW, three grade adjustable

Battery: rechargeable Lithium battery with 2600m built-in

Mode: with Pulse and Continue mode 
The Advantage of Laser Helps the Soft Tissues Repair of Pet by Causing the Following:
Endorphin release

Vasodilation, which increases blood flow to bring in oxygen and cells involved in the healing process

Muscle relaxation

Decreased inflammation

Faster healing and repair
The main clinical benefits of laser use in pets include decreased inflammation, decreased pain, and improved wound healing.
Laser Treatment for Dogs / Animal's Arthritis, Anti-inflammation
LLLT is a non‐invasive light source treatment. It is also called photobiomodulation. LLLT is believed to affect the function of cells, accelerate connective tissue repair and anti-inflammation. Cold Lasers with 650nm and 808nm are used in the treatment animal arthritis.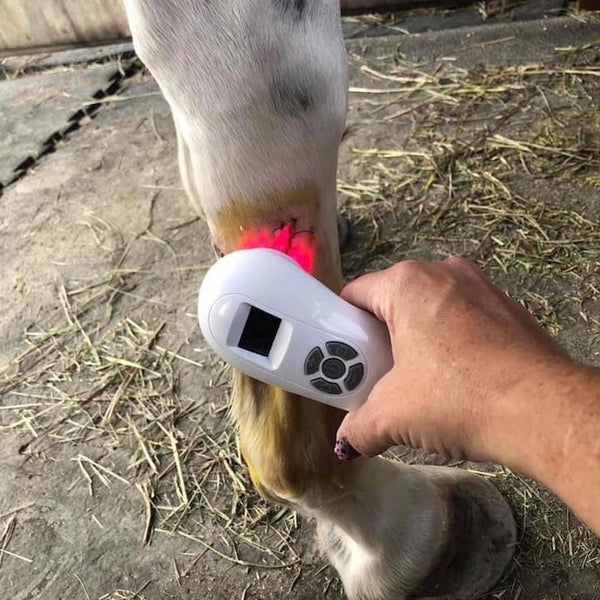 Laser Treatment for Wound Healing 
The low-level laser stimulates the cells to increase the production of certain enzymes which affect cell proliferation or cell division, thus increasing the healing speed of a wound.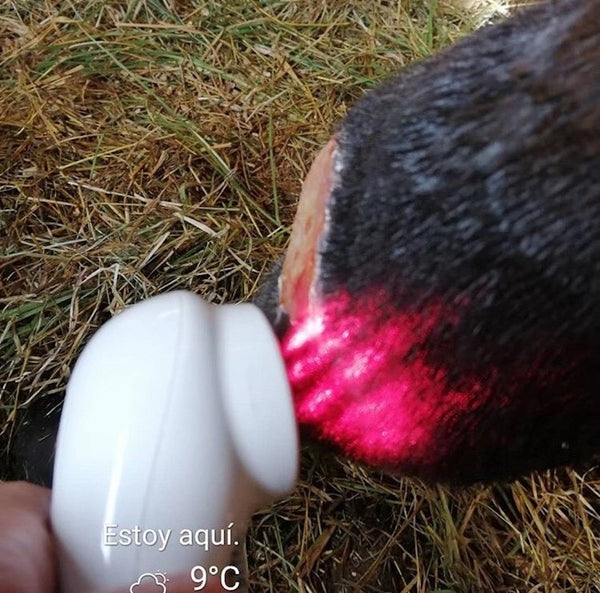 Laser treatment for Sports Injuries Rehabilitation
LLLT / cold laser therapy uses light photons to irradiate an area of injury to relieve pain and promote the animal natural healing system. It reduces inflammation and accelerates the tissue repair, relief the pain and treat injuries.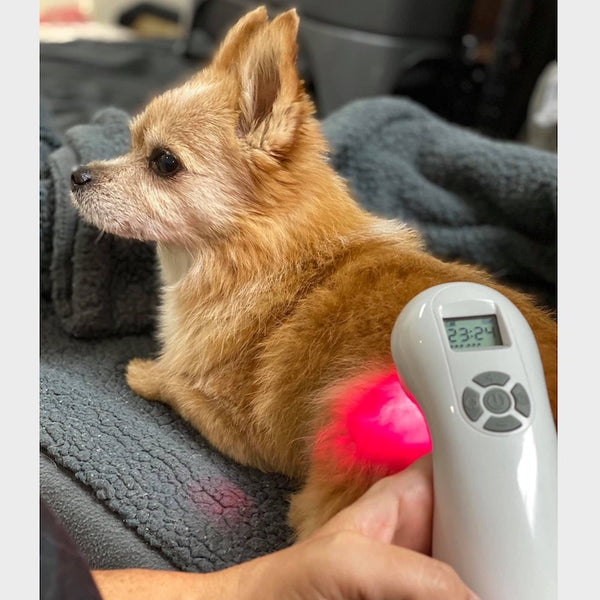 Who can benefit from laser therapy?
Laser therapy is used for many veterinary medical conditions, including:

Chronic arthritis

Surgical incisions

Tendon and ligament injuries

Traumatic injuries
Laser therapy is particularly useful for pets with limited medical treatment options, such as:

Pets with liver disease who cannot take medications

Cats, for whom only a few pain-control medications are approved

Exotic pets for whom medication administration is difficult or impossible

Older pets with diminished organ function
What is the side effect of laser treatment?
LLLT / cold laser therapy is pure physical therapy, no side effect, no cross-infection, painless treatment
How to use the laser treatment for pets?
Use the cold laser therapy directly apply to the affected area of dogs, horse, or other pets about 10 mins with middle / full power, don't need to remove the hair, continue use one weeks, until the pet recover. There is no pain of the laser treatment, most of the dogs feel relaxed, laser treatments can reduce the treatment time, enhance the dog's ( pets) overall quality of life sooner.
And we will supply you the professional treatment protocols for equine and animals to help you get the better result. 
P.S: Not only for pets, the Handheld Laser work great for people also. 
Warranty Term
We guarantee full 1 years warranty, if the instrument doesn't work not for the artificial reason, within the warranty time we will change the new instrument for you, over the warranty time, we will repair for you and only take little charge of material.
Including
One veterinary laser therapy device, EU/US charger, user manual in the English version, warranty card. 
Related Product:
1000mW Cold Laser for Clinic / Hospital
660mW Cold Laser for Practitioners- Physiotherapist, Acupuncturist, Chiropractors, etc
SHIPPING
We offer FREE SHIPPING on all full priced orders worldwide,most orders ship out within 1-3 business days.
All U.S or European orders are shipped via DHL/Fedex/EMS/UPS/TNT, which delivers to location about 7days, Once your goods has shipped, we will inform you the tracking number,and track the delivery,our goal is help you to get the orders soonest.
Any import taxes (if applicable) will be the responsibility of the customer.
Warranty Policy:
We guarantee full 1 years warranty, if the instrument doesn't work not for the artificial reason, within the warranty time we will repair or send the new instrument for you, responsible the express charge send back to you, you only need to pay for the express charge for return back. Over the warranty time, we will repair for you and only take little charge of materials, and don't responsible for the express charge.