The clinical manifestations of the prostate are mainly two aspects: First, the bladder irritation, such as urinary frequency, urgency, nocturia and urge urinary incontinence; On the other hand, the performance of the prostate obstruction caused by urinary obstruction symptoms, such as dysuria.
Urinary frequency is an early sign of prostate hyperplasia; especially nocturia increases. The hazards are 1. Urinary in the bladder can not empty, deposition of urine prone to infection. 2. The outflow of urine is blocked and the pressure in the bladder increases, affecting the kidneys and ureters so as to lead to acute pyelonephritis. 3. Severe prostatic hyperplasia can lead to ureteral hydronephrosis, loss of renal function, coma and other urinary symptoms.
What are the Causes Prostatic Hyperplasia?
(1) Prostatitis has not been completely cured, such as urethritis, cystitis, and prostatitis, all of which can also cause congestion of the prostate tissue and increase hypertrophy.
(2) Excessive sexual life and masturbation can make the sexual organs congestive, causing prolonged blood stasis of the prostate, and enlargement of the prostate.
(3) Regular drinking or long-term drinking, addictive spicy foods and other irritating foods.
(4) lack of physical exercise, arteriosclerosis, prostate local blood circulation is not good, which also can cause prostate hyperplasia.
What are the Symptoms Prostatic Hyperplasia? 
Bladder irritation: Frequent urination, urgency, nocturia, and stress urinary incontinence. Old people who did not urinate at night showed one to two nocturia, indicating that early prostate hyperplasia. If there are 4 to 5 nocturia, the disease is worsening.

Symptoms of prostate blockage of the urethra
urination weakness: urine thinning and urine dripping, patients need to increase urethral pressure during urination to discharge, and even the interruption of urination, urinary dripping and other symptoms.

Urinary retention: Serious patients with benign prostatic hyperplasia may experience long periods of urination, cold or alcohol-induced acute urinary retention.

Hematuria: Hematuria is blood in urine, and there are more than 5 red blood cells in the microscope with high power.

Prevention A. To keep the perineum clean: especially at the scrotal folds, it is easy to hide large amounts of bacteria and filth. The bacteria will take advantage of it. B. Prevention of cold: Increased sympathetic activity due to the cold, resulting in increased urethral pressure and reflux. C. Massage and health care: Shenque points, yin points, Qihai points, Guanyuan points, and Zhongji points are commonly used to promote emptying of the bladder, reduce residual urine volume, improve perineal blood circulation, and achieve the effects of anti-inflammatory and analgesic and swelling.
What are the Treatment Prostatic Hyperplasia? 
Commonly used drugs are hormones that can only improve symptoms and cannot be cured. Surgery is a commonly used method, such as microwave and laser are often used for prostate surgery. Conservative treatment is a safe, effective, and less adverse treatment. The use of Red Light therapy device irradiation on the point of the perineum, can clear the meridians and qi and blood, adjust the function of organs, kidney, qi, diuresis and treat the unfavorable of urine. Red light treatment of prostate hyperplasia is reported below.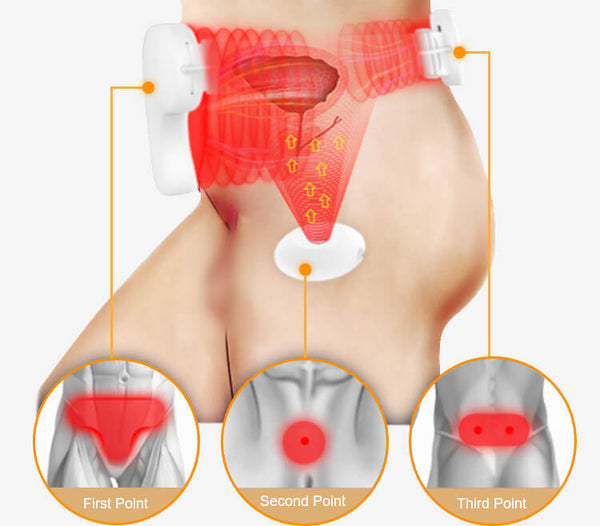 Hebei Provincial People's Hospital An jingke reported using LED red light to treat 30 patients with benign prostatic hyperplasia. The patients were scored according to the international prostate symptom score, moderate in 7 cases, and the average score was (14.4±2.8) points; severe in 23 cases, the average score was (24.7±3.1) points. All 30 patients were diagnosed with BPH by b-ultrasound and anal examination.
Treatment method: LED therapy light red (640 ± 15) nm, the head of the small light source placed on the skin of the perineum, the light source is directed at the lower abdomen of the curved bone, the pole, Guanyuan point irradiation, once a day and each irradiation for 30 minutes, 15 to 20 times for a course of treatment, 2 consecutive courses. Stop all medications and other treatments during irradiation.
Treatment results: In 30 cases, 17 cases were markedly effective, accounting for 56.7%, 11 cases were effective, accounting for 36.7%, 2 cases were ineffective, accounting for 6.7%, and the total effective rate was 93.3%. The average treatment time of 30 cases was (27.13±5.73) days. International prostate scores before and after treatment were divided into (22.2±5.5) points and (8.97±6.37) points, the difference was extremely significant (t=5.49, p<0.01). According to the International Prostate Symptom Score Quality of Life Questionnaire, the scores before and after treatment were (3.73±6.5) points and (2.37±0.96) points, respectively. The difference was extremely significant (t=5.48, p<0.01).
The specific effects of different age groups are as follows:
A total of 17 patients were over 65 years of age, with 8 markedly effective, 7 effective, and 3 ineffective. A total of 13 patients were less than or equal to 65 years old, with 9 markedly effective, 4 effective, and 0 ineffective.
The efficacy of different disease groups is as follows:
A total of 12 patients with a course of disease greater than 5 years old had markedly effective in 5 cases, effective in 5 cases and invalid in 2 cases. A total of 18 cases with a course of less than or equal to 5 years old had 12 cases markedly effective, 6 cases effective, and 0 cases ineffective.
There was a significant difference in effective rate among different age groups (x2=7.23, p<0.01, and there was no significant difference in treatment effectiveness (x2=1.64, p>0.05)); the efficacy was not statistically significant in different disease groups (significance x2 =1.83, p>0.05), effective rate (x2=3.21, p<0.05). After 9 cases of treatment, after b-ultrasound examination, there was no change in the volume of 3 cases, 6 cases were reduced, but did not return to normal size The average prostate volume before treatment was (46.8 ± 7.6) nm × (36.4 ± 8.7) nm × (36 ± 9.2) nm). The b-ultrasound examination after treatment was (44.5 ± 5.7) nm × (34.4 ± 7.5) nm. × (3.28 ± 6.4) nm, not statistically significant (p>0.05).
In addition, Hu hongming, a laser hospital in Nanjing, Jiangsu Province reported that 230 patients were treated with LED red light.
Treatment method: Place the red light spot of the LED Light Therapy device at the point of the perineum point at a distance of 5 to 8 cm. The irradiation time is 30 minutes each time. Once a day, 10 times is a course of treatment. The treatment can be continued between treatments.
Treatment results: 49 cases were cured, 141 cases were markedly effective, and 40 cases were effective. The total effective rate was 100%.
Typical cases: The patient, 78 years old, was diagnosed with hyperplasia of prostate, given hormones and antibiotics, and his condition was not improved. Nocturia up to more than 10 times, urinary inability, dripping. Rectal examination showed enlarged prostate, medium hardness, and lightened central, b-ultrasound: The size of prostate is 4.3cm x 3.6cm x 2.7cm, after the irradiation of LED red light at the perineum point for 2 courses,  the patient urinates 1 to 2 times per night, b-ultrasound examination of the size of prostate is 2.9cm x 2.2cm x 1.5cm.
Recommend the Male Led Light Therapy Machine to treat the male disease and prostate at home, visit Male Led Light Therapy machine