Laser Therapy Watch with 12 Beams 650nm Low Level Laser for Rhinitis Hypertension Treatment
Domer Upgraded Laser Therapy Watch with 12 beams 650nm low level laser beams and 1 nasal cavity 650nm laser help you lower the blood pressure, treat the rhinitis, hyperlipidemia, hyperglycemia, and other cardiovascular and other related cerebrovascular diseases.
Laser Therapy Watch is safer and more effective over 5000 laser therapy clinical trials ( RCTs) and over 7,000 laboratory studies have been published.
Domer Laser Therapy Watch are designed to operate at 650nm low level. wavelength and intensity laser to provide an array of healing benefits, It's best price high-quality low level laser for medical professionals and home use.
Free shipping worldwide straight to your door
Free health guide help you use the laser therapy watch in the right way
60 days trails to make sure you are satisfied with Domer Laser
1–year warranty and best after-sale service, supply you new laser or parts free guarantee
Product Price:
$199.00 USD
$159.00 USD
Availability : In Stock
Product Type : Occupational & Physical Therapy Equipment
Vendor : Domer Laser
Free shipping worldwide

60 days Money Back Warranty

100% Secure Payments
How does Laser Therapy Watch Work?
Domer Laser Therapy Watch Adopted 12 diodes of 650nm low level laser irradiate the radial artery, neiguan and nasal cavity acupuncture point on the left hand showed positive effect in reduction blood pressure, rhinitis treatment.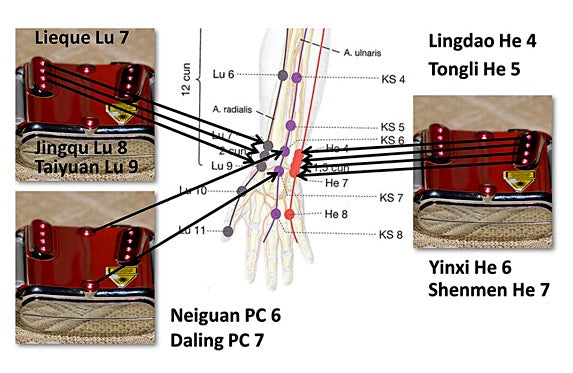 Change Property of Blood Hemorheology
When cold laser watch irradiates defined acupuncture points on the wrist (radial artery, neiguan point and nasal cavity acupoint), the energy light can be absorbed by cells, to stimulates protein synthesis, help to clean blood vessel waste.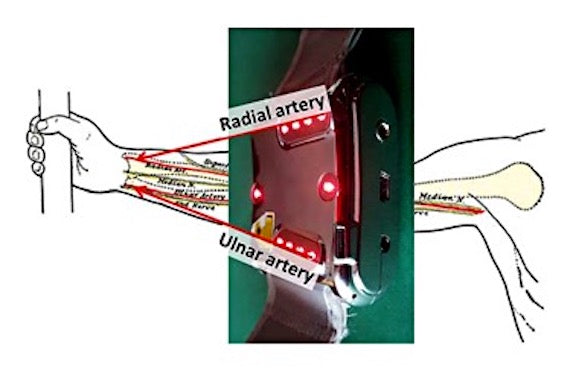 Increase Body's Immune System
Adopt 12 pieces 650nm low level laser to irradiate the acupoint can improve disease resistance of organism and help the recovery of infectious disease and disease about allergia and autoimmunity.
Improve intoxication state of organism
Enhance activity of superoxide dismutase (SOD, a kind of enzyme for scavenging free radical) in the organism, lower the medium molecular substance (MMS) and reduce other stack, so that the organism is protected from the damage of free radical, MMS and other toxicants.
The Application of Laser Therapy Watch
Cold Laser therapy watch combines acupuncture point, external blood irradiation (radial artery acupoint & nasal cavity) for your health living, especially help people purify the blood, lower blood pressure, fight diabetes.
More FAQs
Specification of Semiconductor Laser Treatment Watch
The Domer Laser Therapy Watch for blood pressure uses class 3B 650nm low-level laser light, with intelligent operation interface, just need to set the power, treatment time, and treatment mode, super easy to use.
Laser Type: GaAlAs Class 3B Laser
Laser Wavelength: 650nm low level laser
Terminal Laser Output: 12 laser diode with 650nm and 1 nasal cavity laser
Single Laser Output Power: ≦5mW
Terminal Maximum Power: 65mW
Timing Setting: 10-60 minutes
Power Adapter: DC5V/1A
Battery Voltage: 3.7V
Watch band length: 280mm
Display size: 65mm x 65mm
How to Use the Laser Therapy Watch?
Before treatment, place the light nose-plug outside the laser treatment head, then put the treatment head into nasal cavity.
Push "switching" button or "mode" button to adjust.
Patients can choose the suitable power according to needs.
Continuously push the "Timing /Alarm" button to set treatment time length (between 10 to 60 minutes).
A 30-minute treatment is generally recommended, 15 minutes per nasal cavity. The instrument emits buzzing sound when it finishes irradiation, showing the end of treatment.
It automatically cuts off the laser output to enter standby mode.
Course of treatment: Once a day for 30 mins and irradiation treatment in the evening is recommend. 7-10 days for one course and the interval between therapeutic courses is 5-7 days.
Put the treatment head into nostril to irradiate nasal cavity, place the wire around ears to prevent slipping.
DO NOT USE IF YOU ARE: pregnant, receiving cancer treatment, suffer hemorrhages, acute myocardium infarction sufferers or have had a stroke.
What is the Therapeutic Effectiveness of Laser Therapy Watch?
After 30 mins treatment

We can see the blood red cells activated, it single and back to normal.
After about 30 days treatment
A headache, dizziness, chest tightness, shortness of breath, palpitations, drowsiness, insomnia, numbness, memory loss and other symptoms change or disappear.
After about 3 months treatment
User tests changes in blood flow, blood tests, blood viscosity, cholesterol, triglyceride, low density lipoprotein, or other indications fall back to normal.
What is the Contraindication of Laser Therapy Watch?
The laser watch is not suitable for cancer patients, pregnant women or people with haemorrhagic diseases
What is the Side Effect of Cold Laser Therapy Watch?
Upgrade 12 beams 650nm Laser Therapy Watch
Double power than other laser watch, which only 7 beams 650nm laser
With 12 laser diode 650nm low level laser and 1 nasal cavity 650nm laser
Super Effective, the effective rate is up to 95%
Intelligent & Easy to Use
Treatment time 10-60 minutes adjustable
Power 5 levels of intensity adjustable
Portable, Quality
What are client say
Daniel Cohen

"I use the Domer Laser for anti-inflammation, to relax very tight muscles, help reduce pain, also combined with massage therapy benefits are greater, Laser makes my work easier"

Dr.Kian Masoumi

"The Chiropractor in my office uses Domer Laser on me often to stimulate acupuncture points. I know the laser machine helps me because I feel great"

Dr.Jeffrey Dreon

"Laser point acupuncture is the safest natural treatment, needle free and more effective than traditional Chinese acupuncture. In my practice, I prefer to use the Domer Laser to benefit my patients"

Dr.Jagjeet Singh

"Updating skill and latest tools for practitioner in medical field is our priority.I added Domer Laser from last 16 months for pain management and incurable cases.Good results ."

Dr.Paulette Lewis

"I used Domer Laser to treat the knee osteoarthritis, TMJ, Knee meniscal tear, Chronic neck pain are a few that I remember right now, I use it for 10 minutes, results have been from at least a 25% to 100% improvement in one session, very great tool."
Occupational & Physical Therapy Equipment
Our Satisfied Customer