Best Laser Treatment for Toenail Fungus at Home
The Domer Toenail fungus laser treatment device device will not hurt or cause pain when treating fine onychomycosis; no more embarrassing visits to the doctor; no more creams, sprays, prescriptions, or medicines; using the laser therapy mere minutes a day in the comfort of your home, it will help you recover from nail fungus. 
The How does Toenail Fungus Laser Treatment Work?
905nm cold laser and 470nm blue light irradiation will penetrate the infected nail plate and target causative pathogens on the nail bed. As a result, the fungal infection will be greatly alleviated and gradually eliminated.
The laser produces coherent light energy of a sufficient strength and of a specific wavelength which when projected into tissue is differentially absorbed by the target material, producing heat and hence tissue destruction. Other tissue compensation is unaffected and so spared.

Technical Information of Laser Toenail Laser Treatment Device 
Laser wavelength:905nm
Blue light wavelength:470nm
Laser intensity: 25W
Maximum pulse intensity:22W

Adaptor Specification
Voltage:5V
Rating:5VDC
Max:0.5A
Charging time:3-4 hrs
Input:100-240V 50/60Hz 0.2A
The Advantage of Laser Treatment for Toenail Fungus 
Laser treatment for toenail fungus success rate is up to 90%, the laser treatment is noninvasive, painless, no side effect, pure physiotherapy
905nm cold laser therapy combined with 465 blue led light for disinfection
Mini size for portable use anytime anywhere with chargeable lithium battery inside
Economic & effective in killing Onychomycosis
Most favorable price & great effect compare with other brands of nail fungus laser devices.
Is Laser Therapy Device for Toenail Fungus Removal?
The laser treatment involves passing the laser beam over the infected nails and surrounding skin. The physician will repeat this several times until enough energy has reached the nail bed. The result will be noticed as short as the 4th week of use. To achieve significant improvement, remove the fungal infection and prevent future fungus infections, it takes about 2-3 months treatment.
Will the nail fungus come back?
Your nail infection should improve following treatment but you will need to continue with home care techniques to reduce recurrence of the infection as advised by your doctor. There is a chance of re-infection because the fungus is present everywhere in the environment
100 Percent Satisfaction Guarantee
Because we know our product is top quality, we offer a 1-year warranty; BUY WITH CONFIDENCE the NAIL CLEANING LASER DEVICE that comes with an Electrical Wall Charger, User Guide, get beautiful nails on your toes and fingers.
How to use the Laser treatment for toenail fungus device?
Place the device on the infected nail and push the button to begin the treatment. The device will automatically stop after 7 minutes.
For best results, use the device 3 times a day: morning, afternoon and evening.
In order to prevent future fungal infections - it is recommended that you use the device regularly for at least 3-4 months.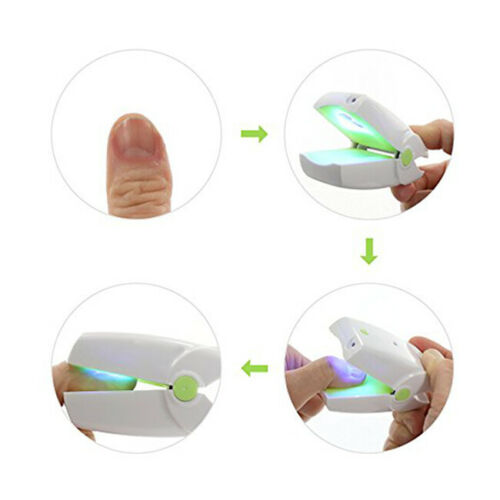 Operating Instructions of Nail fungus Laser

1. Place the device on the infected nail and press the operating button
2. Treatment light will begin to blink and the device will emit visible blue light.
3. The device will operate for 7 minutes and shut off automatically.
Note 1: Device may not be used while charging the battery. Please allow the battery to be fully charged before use.
Note 2: All nails should be fully cleaned before treatment.
Note 3: No more than three times treatment per day for the same nail of a person.
Frequently Asked Questions
1. When will nail health improvement be evident?
Treatment duration may vary between individuals, depending on variables such as age, the severity of the infected and so on. Estimated treatment duration is 3-6 months
2. Can the laser burn me?
No. It is a class 1M laser device, pure physiotherapy, no pain, no side effect, no trauma.
3. Does Laser Treatment for toenail fungus covered by Insurance?
It depends on your insurance company, but the laser therapy device is one-time investment, no side effect, easy to use, portable, we supply full one year warranty, even though it doesn't cover insurance, it will help you save much money, if you buy the nail fungus laser therapy device to treat at home.
The Box Contains:
Nail fungus device
Power outlet
Instructions Manual
We will provide the adapter
If you want the Toenail Fungus Laser Treatment Machine for clinic use, we have the 60W Class 4 Laser Nail Fungus Laser machine 
SHIPPING
We offer FREE SHIPPING on all full priced orders worldwide,most orders ship out within 1-3 business days.
All U.S or European orders are shipped via DHL/Fedex/EMS/UPS/TNT, which delivers to location about 7days, Once your goods has shipped, we will inform you the tracking number,and track the delivery,our goal is help you to get the orders soonest.
Any import taxes (if applicable) will be the responsibility of the customer.
Warranty Policy:
We guarantee full 1 years warranty, if the instrument doesn't work not for the artificial reason, within the warranty time we will repair or send the new instrument for you, responsible the express charge send back to you, you only need to pay for the express charge for return back. Over the warranty time, we will repair for you and only take little charge of materials, and don't responsible for the express charge.
What are client say
Daniel Cohen

"I use the Domer Laser for anti-inflammation, to relax very tight muscles, help reduce pain, also combined with massage therapy benefits are greater, Laser makes my work easier"

Dr.Kian Masoumi

"The Chiropractor in my office uses Domer Laser on me often to stimulate acupuncture points. I know the laser machine helps me because I feel great"

Dr.Jeffrey Dreon

"Laser point acupuncture is the safest natural treatment, needle free and more effective than traditional Chinese acupuncture. In my practice, I prefer to use the Domer Laser to benefit my patients"

Dr.Jagjeet Singh

"Updating skill and latest tools for practitioner in medical field is our priority.I added Domer Laser from last 16 months for pain management and incurable cases.Good results ."

Dr.Paulette Lewis

"I used Domer Laser to treat the knee osteoarthritis, TMJ, Knee meniscal tear, Chronic neck pain are a few that I remember right now, I use it for 10 minutes, results have been from at least a 25% to 100% improvement in one session, very great tool."
Our Satisfied Customer